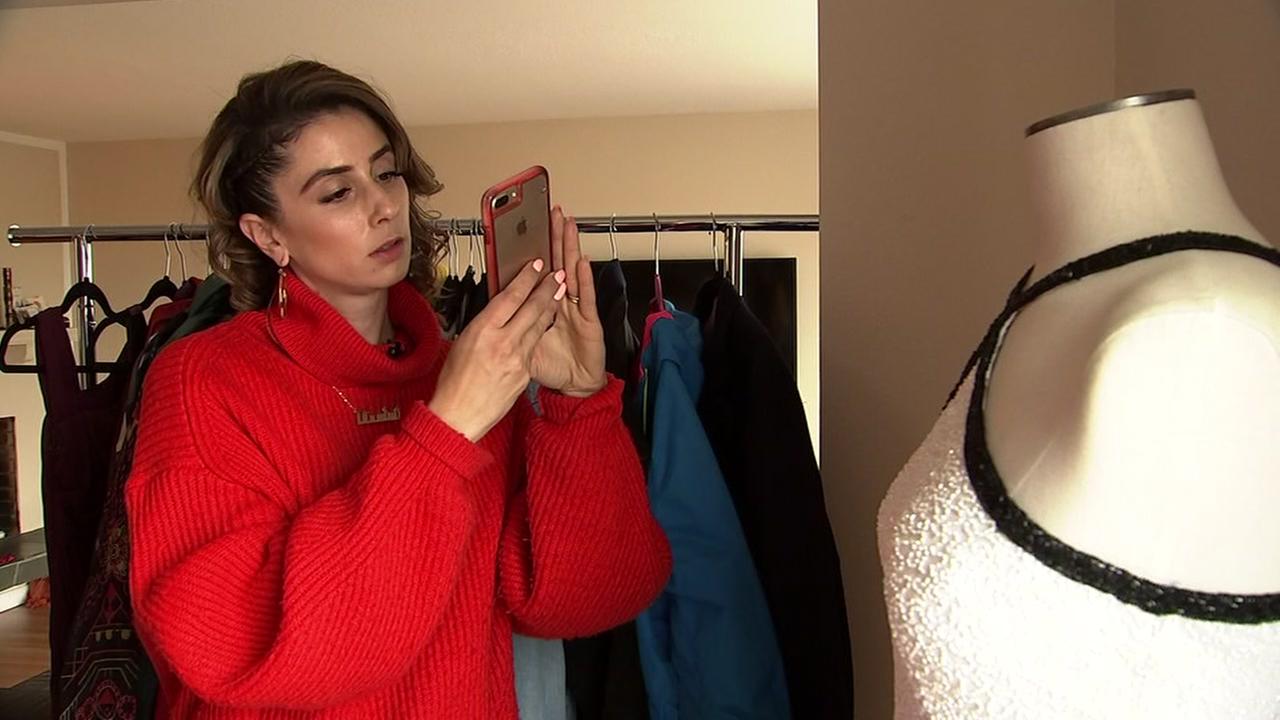 SAN FRANCISCO (KGO) —
Could you use some extra cash? Tens of millions of Americans report having a side hustle, something other than your main job that brings in money. And perhaps nowhere is that more necessary than here in the Bay Area.
ABC7 News tracked down two side hustlers who are on another level, one made six figures in a year's time.
"What do I love about it? I don't know it just gives me life! Like I can't explain it," Savannah Sarkisian-Borrozo said.
This isn't just shopping. It's side hustling.
Six days a week, Borrozo spends at least six hours a day, seeking treasures wherever she can find them. I caught up with her at Mission Thrift in San Francisco. To find items for cheap to spot clean, style, photograph and post on the reselling app Poshmark.
For sales over $15 Poshmark takes a 20 percent cut and she pockets the rest. In 1.5 years, she says she's made $115,000 on Poshmark.
She has 1,000 items listed at any given time and ships out about 20 to 30 items a day.
So how did she become a power seller? Savannah left a good job with the city, "choosing to be a mom every night and day," instead. "I really just wanted to sell some things from my closet because I gained almost 100 pounds when I had my twins and I lost it, but my body wasn't the same, my foot grew a full size, my jeans grew three sizes," she said.
From there, the business grew. So, how can you make her kind of coin? These are her secrets. Pay attention to peak times to post the goods, generally from 8 a.m. to 9 a.m., 2 p.m. to 1 p.m. and late at night. She says look out for brands that sell fast, like Madewell, Theorie, Vince, Equipment as well as athletic brands like Nike and Adidas. Vintage is in. And overalls and denim are big right now. "They're just really special pieces, they're pieces I feel like I wouldn't go into another store and find them as easily," she said.
Our haul? One denim jacket, three vintage dresses and one pair of cut off shorts. She plans to make a $280 profit on the six pieces.
From Poshmark to DoorDash, we caught up with one tech worker who left nothing to chance, creating spreadsheets to maximize his profits. And now he's sharing his secrets.
"As you might expect, it's very expensive to live here in the South Bay and so I needed some extra dollars. I grossed just over $16,000 working Door Dash in 2017," Mark Ferguson said.
By day, Ferguson is a senior manager of sales operations at Action Tec Electronics-, but this is what he's been doing on nights and weekends for 2.5 years now, delivering food through Door Dash about 20 hours a week. His tips? Weekends and dinner times pay off. When it rains outside, it also rains money as people order in. Also: "Big events on TV, whether it's game of thrones award shows like Oscars, Emmys and of course football, football, football, football," he said.
And location, location, location. He says Palo Alto, Mountain View and Sunnyvale are great places to dash. San Francisco is good too, if you can find parking.
Both Savannah and Mark say for a successful side hustle you have to put in the work. But the Bay Area is expensive. And they say their littlest reasons are their biggest incentives to keep at it. "I hope they think their dad is a hard worker because ultimately this is to create a better environment for them as they grow up," Ferguson said.
"They had like a little performance at school where they say what their moms do and my daughter said 'my mom sells things nobody wants' and I was like Molls don't say it like that but she said, 'well you do, you sell cool things.' I've been able to pick up my kids daily. To me that's priceless," Savannah said.
(Copyright ©2018 KGO-TV. All Rights Reserved.)
Follow me on Twitter for cryptocurrency trade suggestions: